Andrew Clermont's Touring Details and Latest News
EASTER - National Folk Festival with Parvyn (from BluGuru & Bombay Royale) launching her new CD!
50th Celebration of Tamworth Country Music Festival - The Supper Club running for half that time !!
Andrew Clermont's Supper Club | GFA (Golden Fiddle Awards) | Totally Gourdgeous | The Apostle String Band Tour | BluGuru
Goldheist with Clermont | SUP & GFA 2019 | BIG MUSIC @ THE RISK - Grieves Crossing ! | Kavisha Mazzella & Two if by Sea | Hillbilly Goats
All Corners Covered - closure !
Andrew Clermont's Supper Club !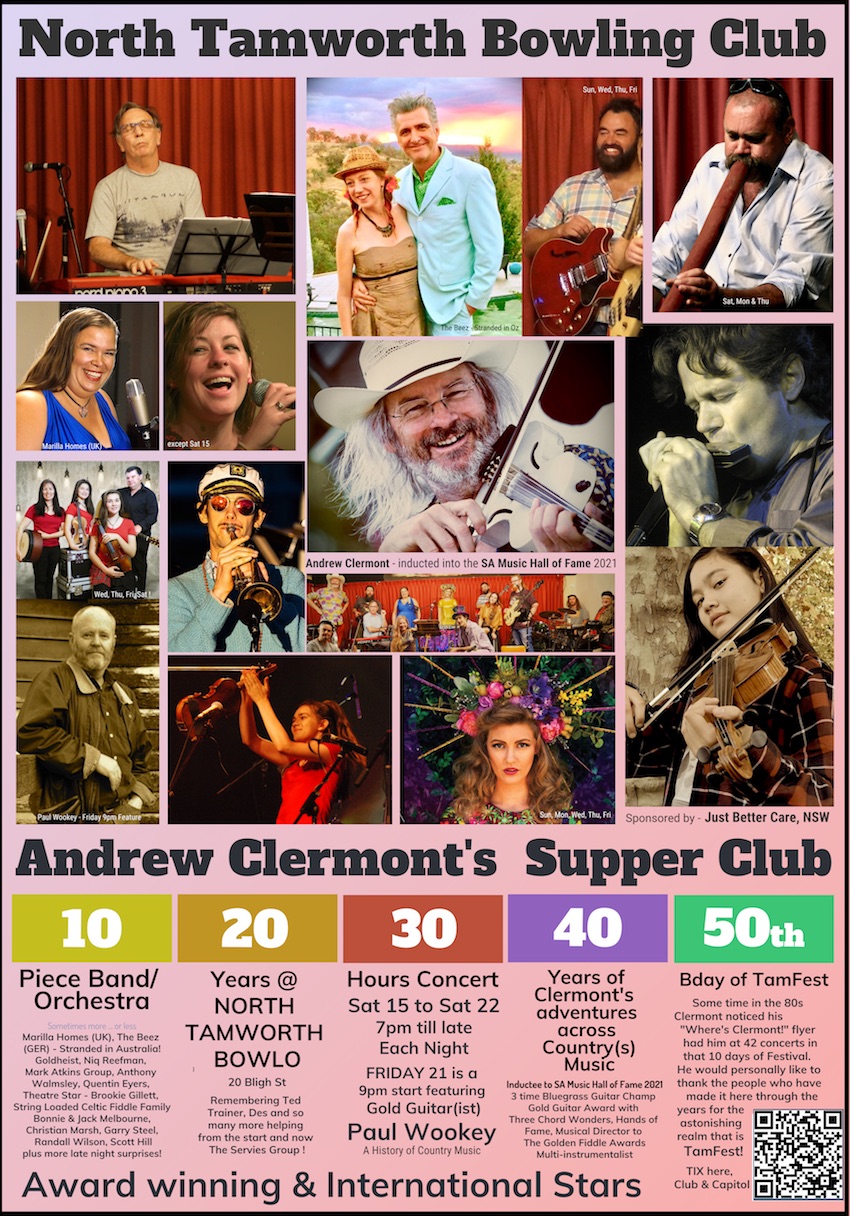 So Close yet So far - largely put off till 2023 but a one night stand on Wed 20th April 2022 will feature all we can !
Quick look ahead here and scroll below for the associated line-ups!
see GigGuide
Piano Tuning as I travel now! 26 down - from 9ft Flugels 160 year old to dainty Japanese student models!

And if anyone is seeking some phone/skype/etc tuition - give a hoy!
Penola Coonawara Music Fest plus HATS concert in Auburn SA - see the youtubes!
Palm Creek Folk Fest QLD 2021 was sold out!
2 of BluGuru were in Melb lockdown :-(
However :-) Clermont & Tim Bennett did team up regardless and give a taste of
this!
The Nowendoc Festival April 12
was a huge community effort!
From Walcha Vets Services for the Tent through to a wonderous re-union of Andrew Clermont's Supper Club
made possible through The Bushfire Community Recovery and Resilience Fund Phase 2, a joint Commonwealth-State fund.
Volunteers for this project were either members of RFS or fire affected individuals or both.
Great grounds for camping. A new type of festival for Nowendoc after developing for the last 4 years through Clermont &
Nowendoc bringing community members together with supporters.

Photos from Marilla Homes !!



Supper Club Director - Andrew Clermont on Multi-Instruments & Sound (Adelaide/ Tamworth), Daniel Gillett on Harp Ukulele, Harmonies &
Bass Clarinet (Tamworth), Shenzo Gregorio on Violin (Gold Coast), Marilla Homes on Opera Vocals & beyond (Sheffield, UK),
Garry Steel on Keyboards (Sydney), Brookie Gillett on Vocals (Tamworth), Hester Fraser on Vocals & Piano (Armidale), Nicholas Reefman
on Trumpet, Vocals & Digital Accordion (Newcastle), Luke Ferguson on Bass (Orange, NSW), Hanna Elizabeth on Vocals,
Marley Berry on Drums (Byron Bay), Randall Wilson on Percussion (Tamworth).


Plus Hanna Elizabeth (Vocals enroute to Mexico!) Mark Atkins on Didgeridoo (Yirdaki) lives Local, plays International! And Henry Hicks ala Horatio Luna with bonus Bass!



Thanks "goddesses" Nena & Sharn for the weight behind this growing event - 4th year!
And now out doors at Nowendoc Rec Grounds - huge thanks to the local volunteers who put soooo much in!!
Don't miss it next year last Saturday in March!! Tickets already on the go !
TRYBOOKING

However - looking back
see my "Library" of Youtubes!
including many Supper Club moments
JANUARY 2020 was another epic SUPPER CLUB season!
link to gig guide
MEANWHILE
with huge thanks to Just Better Care NSW
for kind sponsoring of
the Supper Club during the "Tamworth Un-Fest" 2021



We are heading for a "forget 2020" gathering with a little help from our friends
This year's team!! Lets hope Covid plays ball!

Shenzo Gregorio (QLD) Violin/ Chin Cello !
Hanna Elizabeth (Byron Bay) Vocals
Luke Ferguson (Byron Bay/ Orange) Bass
Randall Wilson (Tamworth) Percussion
Marley Berry (Mullumbimby) Drums
Brookie & Daniel Gillett (Tamworth) Vocals & so much more!
Niq Reefman (Newcastle) Trumpet & Accordion
Garry Steel (Sydney) Keys & flair!
Goldheist (Hester Fraser & Anthony Walmsley) Piano, Guitar & Songs a many

plus always - the extra surprises like Marilla Homes (UK & OZ)
And here's our 2021 Brochure!



It can hardly get more diverse or musically welcoming as the Supper Club.
If you were to ask, gee I wonder what it would sound like if X & Y were to come together with Z ?
Well you'll likely catch it here.
Born of Clermont's life long tendency to meld peoples musical strengths (whether they know it or not!)
and sense of adventure and effort to inspire,
here is the musical wild wood, where music knows no sleep and few limits (just the imagination and gumption) - in it's 18th official year.

Clermont began as a 3 time Australian Bluegrass Guitar Champion.
He first fiddled on Brian Young's Longest Chartered Flight Concert Tours of the World after just 2 years near a Violin in the mid 80s.
Fiddling for Tom T Hall (USA), Troy Cassar Daley's Country through The Screaming Jet's Rock to Opera's Anna Lisa Kerrigan or
The Waifs and 10 tours in Europe with India(n) to theatrical bands
ie. Totally Gourdgeous, BluGuru, Dya Singh World Music Group, The Beggars, The Borderers (including 2014 in Lorient - France and Skägen -
Denmark) plus Germany, Festivals and more as timing permits.
He finally created an all encompassing event, highly regarded & cherished across many Festivals
- not only originally hosting the NoHoldsBarred Fiddle Contest,
it allowed the creation of most orchestration possibilities in the name of Country(s) & Folk Music
with a fellowship of youth & wissen who stop at few borders or genres.
Andrew Clermont's International Supper Club included 100 players in 2013!
Sup Club Live Recordings are distilled into - 7 CDs and many DVDs (including Tuition)!

more details at
http://www.andrewclermont.com.au/specialevents.htm#tamfest


Sat 11th Jan 2020 - the now annual return of The Supper Club to NOWENDOC (in them thar NSW hills!!)
Special Guest Goldheist (Hester Fraser - Piano & magical soaring vocals with Clermont)
Mark Atkins - Didgeridoo & Story Teller Wizard!
together with Brookie & Daniel Gillett (Tamworth Stage Stars)
plus guitar wizard Anthony Walmsley to join in!
plus Angus on Bagpipes - hey hey and an appearance from Jenny Lester out of Canada (BC)!




Then the Classic festival "prequel" at The Chicken in the Window Barn
Murrurrundi - 240 Mayne St - Fri 17th (15th in 2021) fran_wachtel@yahoo.com.au
The food is stellar as well - let Fran know you are coming!!

GFA


We had a tremendous gathering with Awards to Mick Kerin, Hugh Curtis, George Washingmachine
see more @ The Golden Fiddle site

The Golden Fiddle Awards will return in 2022
10am Thursday 20th (note change of the day in the week!!)



************************************************

Totally Gourdgeous
The new Totally Gourdgeous single, "I Have a Dream" (a musical rendering of MLK's speech), through MGM distribution:
https://TotallyGourdgeous.lnk.to/ihaveadream . More about the song at http://malwebb.com/ihaveadream.html
The album, "Gourd in the Act", will be released on Feb 14, https://www.thegroovemerchants.chom/Product/85593
Also on Bandcamp: https://totallygourdgeous.bandcamp.com
Plus new DVD "The Ripe Stuff"
http://www.andrewclermont.com.au/sounds.htm#gourdgeous



Returned to The Supper Club, JAN 2020 18 - 25
Totally Gourdgeous 20th year toured through July 2018
from Melbourne around coast to Nowendoc! near-ish Tamworth
- and back as Totally Gourdacious (Kylie Morrigan joining Mal & Andrew)!!
A knock out run! Much thanks to all who helped or came along!

Joni Mitchell meets James Brown in Bob Marley's pumpkin patch via The Muppets!
All are playing Gourd instruments luthiered by Penelope Swales - Legendary since young
(Gourd Guitar, Gourdalin, Stomp, Aslatuas, Chinese Hulusi Gourd Flute),
Mal Webb - from Lano & Woodley to Glastonbury Solo (Gourd Bass, Mbira, Gournet, Voice-box),
Carl Pannuzzo - Smallest Stadium Band in the world to Woodford Fire Event Choir master (Gourd Djemba, Percussion, Guitar),
Andrew Clermont - a nutso player from Dya Singh to Tom T Hall (Gourdiddle, Gourdalin, Guitar)
and all with Gourdatious Vocals to produce a manic, organic musical experience, punning pathos, heartfelt hilarity & messages of love,
fellowship and environmental sanity.
Third DVD ! - The Ripe Stuff
Second DVD - Shades of the Vine!
First DVD - The Bazzar Clips - Woodford

***********************************************************************

The Apostle String Band Tour :
Peter, Paul & Andrew gather a short history of the western world of music.
Epic in their contributions to acoustic music in Australia and a few world parts, they are champions & high demand session players
of their musical instruments and perform seamlessly reflecting their 30 years of association in harmony and song.
Pete Fidler - Dobro (slide guitar) with new CD and recent remake of Dark Side of the Moon - Pink Floyd(!);
Paul Wookey - renown for his incredible Blues to early Country delivery including many 60s & 70s classics;
Clermont's fiery Fiddle, Mandolin & Guitar. Plus James Gillard - Double Bass & Tenor Voice
- not only member to the Oz Bluegrass All Stars in the 90s but also soaked in The Fargone Beauties, Mondo Rock & Richard Clapton Band!!
A soaring presentation - not to be missed.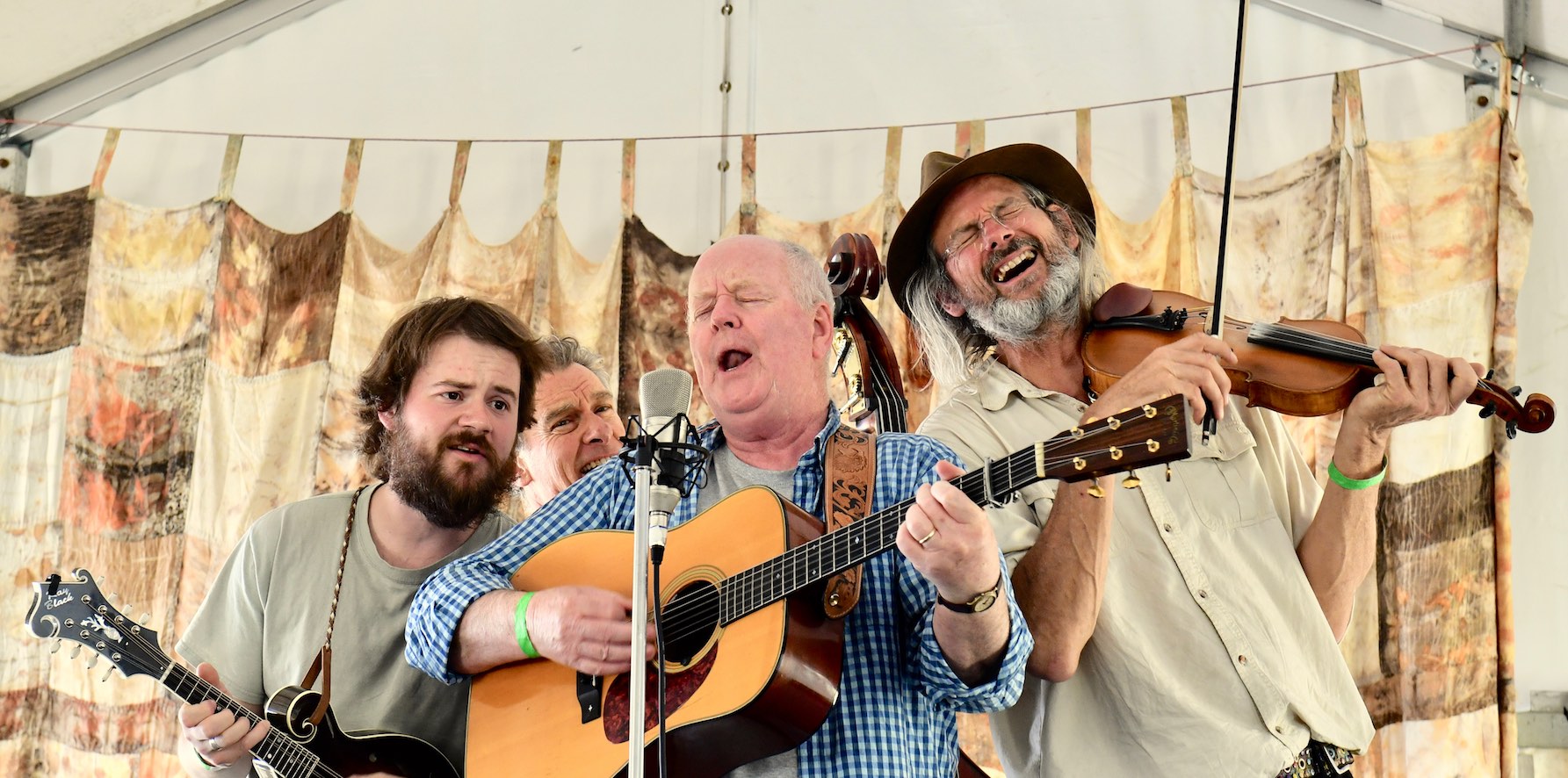 Paddy Montgomery (replaced Pete Fidler for the SA leg) , James Gillard, Paul Wookey, Andrew Clermont


*********************************

BluGuru


here playing at The Produce Store Mansfield (Thanks to Tad for the Photo)
2019 saw them on tour in Tasmania & South Coast NSW

Parvyn sang for the India World Cricket match in Melbourne the other summer!
Stunningly good - and India won!!
Had a mighty fine week @ The Kelly Country Pick Aug 2018 (coming back in Aug 2021)
Soared at The Planting 2018 - Woodford

Sounding like Jeff Beck meets Ravi Shankar on the set of 'Oh! Brother Where Art Thou' while dancing in Rio!,

they feature the sublime voice of Parvyn Bennett (and Percussion, Mandolin & Indian Dance)

Josh Bennett (Adelaide Fringe Award Nominee for Best Music) - Guitars & Mandolin to Sitar & Tabla. Both moonlight with Bombay Royale,
(Tim Bennett - Tapping Bass and groove meister!)
And chameleon Andrew Clermont, who is also a nutso Fiddler, Mandolinist & 3 time Bluegrass Guitar Champ to boot
- 30 years touring - from Tom T Hall, Dya Singh to Totally Gourdgeous!

They are distilled from a vibrant world touring history with a 3 part harmonised twisting tale of gone Bluegrass/Celtic/ Blues/ Swing/ Jazz/ Indian adventure.

We congratulate Josh & Parvyn with the arrival of dear Ravi Bennett May 2016

www.Bluguru.net


and 17 - 19 May 2019 held The 40 Hour Jam with Shenzo Gregorio on Magnetic Island
also including BluGuru and an incredible array of performers! Get your flights
sorted early for 2020 early Oct and help fundraise for Motor-Neuron Disease Research

***********************************************************************************************

Goldheist with Clermont - of Elves & Ents - Magic in Music
2019 to 2020




Growing legend Hester Fraser is Goldheist - many times voted the audience favourite - she met Clermont through The Supper Club
and now there is opportunity to see his chameleon abilities flex into fantasy & wonder as they traverse the magic of Goldheist
https://www.youtube.com/user/TheGoldProjectMusic
From Glen Innes to Sussex Inlet in the midst of July 2019
Can't wait for the next opportunity! Tour south to SA in plan next February/ March to Frances Folk Gathering & Sandford Bush Fest
The Supper Club went nuts again at Sandford Bush Festival March Long Weekend 2020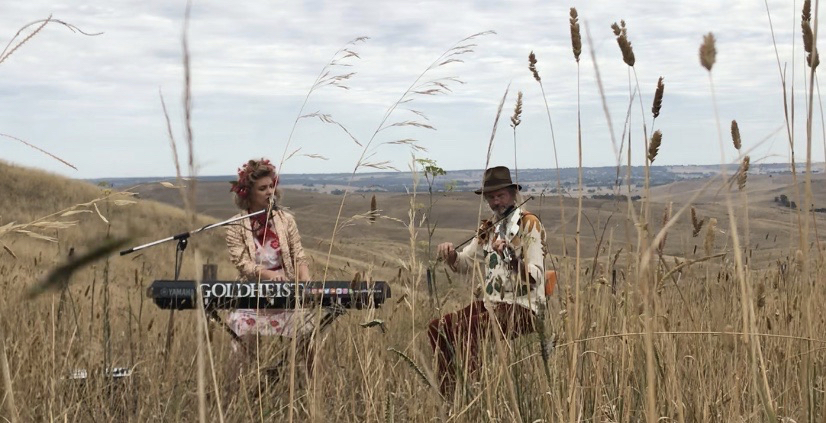 Goldheist above Sandford (nearly making a video shoot!) - Hester Fraser & Andrew Clermont
The first year saw
Silas & Sarah VIC from The Bushwackers plus Lucy Kammerman SA & Jude Iddison WA all on wild fiddles plus
Quentin & Tony Eyers brothers on Bass, Keys & Harmonicas - Second year saw Paddy Montgomery join
Clermont, Jude Iddison, and Paul Cooper on Banjo!
And this year featured Goldheist soaring with Paul Wookey & Clermont

**************************************************************************************************

Here's what happened January 2018 through to 2019!

(just north of KYOGLE, NSW!) (Nearly) Every September!
here's the 2019 line up - it was a rocking corker!

The Supper Club was born & seen via Tamworth, Woodford, National Folk, Fairbridge Festivals for up to 20 years
- and we had the 22nd Anniversary this January 2020.

******************************************

March 2019 tour with Kavisha Mazzella plus Two if by Sea


Middle photos Mark Hopper & Thomas Rosenzweig (Kavisha & Clermont)
Outer - Emma Woolcock (Rachel Johnston & Trent Arklesmyth)
*********************************************************

There was some moonlighting with the Hillbilly Goats during this 2017!! From Albury to Cooktown!
Plus helping out on their "Old Jack's Bones" CD



Hats Off in Tamworth, plus Black Mountain UnPlugged through to Gympie Muster
- twin fiddling finale with Carolyn Trengove 2017!


************************************************************************************


Rachel Johnston & Andrew Clermont - All Corners Covered Tours !
Early December FolkRhythm&Life Festival (Eldorado, VIC) to Newcastle(NSW) 2016
and Rachel joining in again March 2019 with the Kavisha Mazzella Tour presented by Clemont


Photo Geoff O'Neill
Andrew Clermont toured with formidable cellist Rachel Johnston
with a selection from the tips of Scandinavia through UK to inner Outback & Oldtime.
See one of their last concerts together on Youtube!

Clermont leaving for a moment the curious Totally Gourdgeous, BluGuru, Dya Singh & Supper Club adventures
of the last 2 decades, and Johnston her many years of the Australian String Quartet (!) and touring with Missy Higgins -
here be some particularly fresh and soul stirring music.

Curious & twisted are the stories and songs. Tantalising and soaring are the works -
they will certainly draw upon all their histories and take us well beyond!.

Clermont is with the sensuous double size Mick Moffat F5 Mandola along side the Gilchrist F5 Mandolin
and Roger Buckmaster Fiddle & 5 string version,
plus ringing cast metal didgeridoo & White Swallow Banjo
beside Rachel's near glowing Luis & Clark Cello.
Add Clermont's 3 time Bluegrass Guitar Champ maneuvers to
Rachel's gleaning of the worlds of Cello style and there be a feast to behold!

A very special year of 2016
Last tour Gig - Sunday 11th Dec Royal Exchange, Newcastle includes Alex Gordon (stellar Mandolin) & Dave Hellens (unlimited Banjo man)
plus Tamarisque (Janet & Hugh Gordon) a magic finish!
then onto Woodford Folk Fest & Tamworth CM Fest Supper Clubs through the summer plus the Sunshine Fiddle Camp QLD!!
And 2016 is/ was a wrap !

https://www.facebook.com/soaringmusic/
***************************************************

See Gig Guide