Here I update photos and thoughts, some Catch-Up/ Newsletter exerpts and the very latest info (when able!)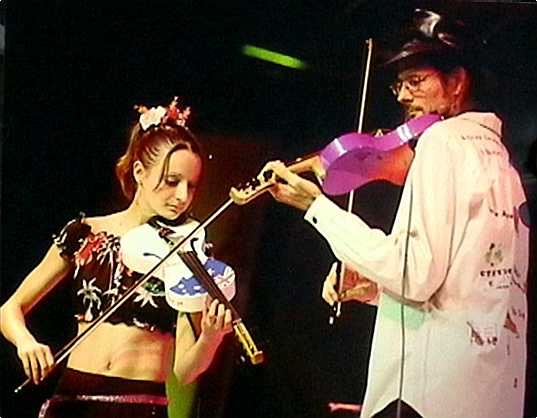 Golden Fiddle Show with No Holds Barred Fiddle Champ Stephanie Eldridge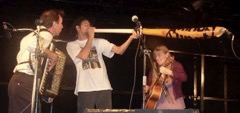 A curious moment in a Hunter Valley Wine event with a rare sighting of the Gourd Didgeribone !
New CDs out now are 'Happy as Larry' with Parris Macleod (purely Fiddle & Piano to disappear into) following last year's fun 'Dance of the Good Life' (with all manner of instruments); and 'Let the Sun Shine on You' to follow the Healing / Meditation CD, 'Songs for the Soul' with loving partner Pauline.
After last October's touring of Victoria, Australia, with Totally Gourgeous and rehearsing for our new CD 'D'Vine', we recorded in Dec & March and are very close to finishing it. Hope you love it.
I've been continuing the year of turning forty with various gatherings.
We had the Acoustic 'Crash Course to Fiddling Freedom workshop Week in the valley behind Tamworth, NSW, last Nov. To book call 61(0)407 753 809 or email of course now andrewclermont@gmail.com
This month sees me enter the 'over forty' realm. Somehow my teenage memories still seem just yesterday.
However, I always have fine company on my birthday, June 5 - among them - Socrates (in history); John Minson & Liz Crago (the country scene) and some ol' Adelaide mates too.
Last year caught me in both San Fran & LA, this year's surroundings were the New Orleans Imax, Jazz Clubs & a nurse fundraising warehouse party.
Sleep? What's that? I sat in with the amazing Teresa Anderson Band - very crossover country - and also with Tony Green (a Django swing devotee).
Thanks muchly for the 'Hoppy Birdy' phone calls & emails, happy returns to all.
Don't forget the 3rdWorkshop Week/end this year - in October by the look of it (date yet to be locked in - open to
suggestion).
A time to focus on some musical freedom in all kinds of ways - a chance to get lessons, advice and musicology
from yours truly.
Stop press: Totally Gourdgeous plan to tour Melb/ Syd/Bris/ Adelaide and between during Nov/Dec, hope to see you in there.
We are also looking forward to the 6th AC Supper Club at Tam Fest 2003
plus 2nd NoHoldsBarred Australian Fiddle Contest therein!
That's January, for both kinds of music - Real & UnReal!
But ofcourse details on those will appear next time or to the curious who email in.
This update features a 10 week toss around Australaisia with fractional timings and helpful friends and a generous
dose of coincidence plus some choice thoughts at the end.
So grab a cuppa something and disappear into some of my world,
maybe two cups! Happy musing...
However..! because of the various delays in finally delivering this midyear missive, there is more
incentive to a more worldly reflection -
Today we circled The Pentagon! The damage outwardly repaired, with completion planned by Sept 11, 2003.
Our friends live so close to it, they thought something had crash landed right next door.
The communities are still reeling but spinning into a far more firmly bonded community.
The Sikhs world wide hit a big panic button
as in, wear turbans but as un-Taliban as it gets, and have suffered huge mistreatments along with the other perhaps
1/4 of the worlds population who also wear Turbans!


Thankfully, like all stirred up water, it will & does settle, and generally with a new shore line having ridden & learnt from the storm.
This year's Dya Singh World Tour is thus also by virtual default, a peace tour!
The blend of Dya (a Sikh singer), Deeraj (a Hindu Tabla player), Keith Preston (Scottish/ Irish and greek Bouzouki player) and with my Lutheran Germanic background and the resonant tones of the Aboriginal instrument the didgeridoo or more accurately, Yirdaki, we could hardly get any more worldly.
Many workshops, multi-faith gatherings, World music festivals, temples and many airways & highways as we
zigzag through Phoenix (AZ), San Francisco, Los Angeles (CA), New Orleans (LA), Yuba City(CA), Florida,
Washington DC, Vancouver (Canada), back across to New York, back to San Fran and back right over the Atlantic
to UK for a few weeks till mid August, yikes!


However response has been very strong and smiles abound.
That is of course so long as the laptop computer ( or operator?) behaves. Many are the silent screams of chaos in
cyber space. But we learn, don't we?!
Now on a lighter note, my Top 5 CD companions of the last months/years:
5. Goose (self titled and close to live). 14 piece Adelaide funk,Jazz, hornsection group
4. La Bottine Souriante (The Smiling Boot) el spectacle . A 10 or so piece brass & string band from Quebec. Their 10th CD
& live.
3. Prefab Sprout (containing 'Atlantis',' DooWop in Harlem','The 5th Horseman') UK
2. Bruce Cockburn - Best of Canadian Acoustic/ electric
1. The Wrigley Sisters - Huldreland A definitive fiddle/guitar/piano CD of immaculate quality from those gently mischievious
Orkney Island twins (North of Scotland!)
Now I'm not saying they were the best albums, but they were the ones that really did it for me.
now where was I.....

So a lesson in syncronicity

The yearly southern tour was well under way.
Dearest partner Pauline is keen to join up in Adelaide. How to get there - train, bus, plane?

As it turns out, her daughters Rainbow & Sunshine (a befittingly named pair), are up for a trip and swish over in smooth Toyota Camira style.
They catch up with my girls too briefly in the riverland, and join myself & eldest daughter Mandy at my folks place.
Mandy & I had had a fine week near Pt Lincoln, SA, celebrating my 40th her 20th and soon Dad at 80(!) -
checking out the beaches and some dear ol' friends.
Our multi-family gathering enjoyed a couple of nights, meals & shopping together before the transport duo continued their lap through the Great Ocean Road (at sunset - magic), to Melbourne/ Sydney & home within a week!
Meanwhile..
Pauline & I enjoy my folks & close relations before linking up with Totally Gourdgeous (TG) for the Fringe Festival (Spiegel Tent) and more.
Our new 'healing from abuse' CD Let the Sun Shine in You is replicated at ATD and on to the relaxed Frances Folk Festival - (SA/ VIC border) with workshops to 800 kids (and the unofficially longest 'didgeri-pipe' performance)!
I won the Muso Contest there last year, equal first with ol' mate John Francis. This time I do the festival sound production, lure veteran Paul Wookey from Melbourne, and a trio is born. A wonderful week/end had.
Pt Fairy Folk Fest is straight after for a fiddle summit (plus the new trio re-meets for a concert at Hanley House) and then to Melbourne where Penelope Swales takes over the van as Pauline & I whisk across to New Zealand.
We enjoy 3 weeks (and 18 shows!), while Mal Webb from TG has taken the van and all its goods & chattels to Canberra Folk Fest, re-linked with Penelope in Sydney and heading for Brisbane.
We return to Sydney (having enjoyed the company of NZ and its CM veterans Gray Bartlett/ Jody Vaughan & Brendan
Dugan & fun band, plus fine Coronation St. actor/singer Kevin Kennedy and charming wife) and by the time Pauline is back in Tamworth by train, I am in Kuala Lumpar, Malaysia with World music group, Dya Singh!
Hot pools & Batu Cave walks in the mornings & temples by evening. Even caught up with keyboard whizz, Sam McNally(first Tam Fest Supper Club Piano Night), for a semester end concert at a college there.
The week flies by and I shoot back to Oz.
P & Mal are ready to leave Brisbane (having had the ever able Fred Graham stand in for me in TG there - he even wore the costumes!); Mal meets me at the airport and I reclaim the faithful van. They continue south by plane while I proceed with some workshops in Bris before scooting home to Tamworth to re-stock hugs & CDs.
But you guessed it we've forgotten the steak-knife set - free with every story!
Penelope has returned to Melbourne but is soon on her way to Sydney with Mal's car and Mal is eventually getting into Sydney from Brisbane.
I, a little restored, also make it to Sydney by van via the Country in the Vines concert (a Hunter valley first),for the next leg of TG gigs which includes WA for 2 weeks.
We also transfer the large gathered payload of gourds
collected on their previous trip with the van, to Mal's beast.
But now we must leave the van & car in Sydney. Not a nice thought at the best of times and catch the 5 am flight
to Perth!
The gig didn't finish till 1am so it's figured we'd lay quietly at the airport till time BUT IT WAS SHUT! And I still
had to pick up Mal from his car park & drop mine off.
So we all squeeze in at Mal's haven (ah such tolerant friends) to sleep 2 hrs - Mal opts for the van front seat as security as our entire pack of gear is within.
All cram into the van (seemingly minutes later), I drop them at airport, return 30min to my safe park, sadly waken another faithful friend (boy do we love yus!) and deposit valubles inside the house and taxi back just minutes before the close of the flight.
But wait, surely a van in Sydney for 2 weeks is dodgy!
As it happens, Pauline's son Alkina (Aboriginal for moon - by the way) was going to Sydney as a passanger that weekend - what providence! (he's not bad on the ol' didgeridoo either, - just quietly(!) see Woodford, Tamworth & National Festivals).
Thus the van returns to Tamworth. Not to the house mind you, that leg to nearby Kootingal was another effort in itself with fine cut timing.
The great trip west encompassing cliff jumping at Fremantle, the Fairbridge Folk Fest, Albany Festival and the beautiful southern beaches & blowholes with a whole bunch of groovy people including the amazing young Lucy.
She flew over from Adelaide and went wild at all our shows and played great flute at many gatherings.
(Watch out for more of that)
Next tricky segway - Even though we had return tickets to Sydney, P & I needed to get off in Melb instead. Not a problem as the flight went via Melb anyway.
However just as we send our luggage down the conveyor belt the flight is declared closed, too late for Mal & Carl.
At the same moment (near midnight) the Fagan music family(with whom we'd had an absolute hoot) arrive to fly to Sydney - just as Bluegrass Parkway arrive back from Melb - whirls of hugs & kisses ending in the discovery that
M & C can join the Sydney direct flight.
A big time & effort saver. All travel needs satisfied - thankyou Qantas.
In Melbourne we begin mixing the (dare I say exciting) new TG CD for the few days I have before the 6.15 am
Virgin Blue flight to Brisbane to join unknown drummer (Grant Collins - who turns out to be cool & hot (what a funny language we live in) and drive straight down to Glen Innes Celtic Festival 4 1/2 hrs, set up on stage and perform with the
Borderers and again that night at the club till late! Phew!

Fortunately Pauline has caught the Tamworth Pipers bus to Glen with daughter Elisma (their first trip together!) who has
embraced the CD seller job with hearty attitude.
She even sold balloon animals on the side, bringing her much closer to her planned horse investment. Speaking of which, I must get back to mine - dear Gumby - who's been enjoying the longyard pasture for quite a while.
So where were we? OK, it's now Sunday, 10 weeks after Pauline's jaunt to Adelaide and near 13 weeks since I headed
south.
The final leg home comes courtesy of the Sydney Pipers coach, delivering us to the Kootingal roadside, 200m from
home!
All this ofcourse has been but the financial bolster for this years world lap (only days later) with Fiddlers Festival firstly in Japan for a week, then Dya Singh across USA, Canada & UK, till mid-August!
Home just long enough for birthdays, theatre shows (with new daughters therein), dinners and celebrations of life! Plus initial TG tour bookings for Nov/Dec via mobile phone during the bus trip to Sydney before flying out!
Only 29 hr constant travel till the Sofitel Motel, Tokyo!
So now here I am (was!) now in Arizona. The morning's hand washed shirt, singlet & hanky are dry and its not even 9am.
Arrived off the plane yesterday (2 1/2 hrs getting through customs & flight transfer - make the domestic flight by the literal grace of the flight Captain and get driven straight to the ornate gig overlooking the sunset sprawl of Phoenix - where stark hills & desert marry to civilisation (as we know it).
It's midnight where I was yesterday, perhaps more sleep would be prudent, Zzzzzzzzzzzzzzzzzzzzzzzzzzzzzzzzz
---------------------------------------------------------------------------------------------------
More Soon, in the Magic of Music, for you dear people who have been the heartwarming essence of these worldly tours.

Your many compliments, thoughts & suggestions are and have been, most welcome.